A Sensitive Skin Winner! Best used wet, not dry.
My sensitive skin usually makes a fuss when I try anything new, but this product smoothed and soothed! It's a little on the expensive side, but if you can find it at a bargain price, it's definitely worth the higher price tag. It functions as well as it claims to, but if you're looking for a bikini shave cream, you'll want to look elsewhere. I love the scent, the feel, and the packaging, and I would absolutely recommend this product to anyone hoping to have touchable, tempting skin. (Edit: I've since started using this only for special occasions due to price.)
Published: June 5, 2012
Pros:
Allows a close shave; smooths, softens, and protects skin; smells nice; absorbs well; not irritating
Cons:
Difficult to clean razor after use, not a great dry shave cream, not a great bikini shave cream
Rating by reviewer: 5
extremely useful review
Use
I use this product on my legs and underarms, and I use it as a wet shave unless I'm rushed for time or in desperate need of a quick, dry shave. I haven't attempted to use it as a shaving cream for the bikini area because my skin is wicked sensitive, and I don't like to experiment in that area.I have extremely sensitive skin over every area of my body (and when I say extremely, I mean just about every shaving cream makes my skin burn, feel itchy, and/or feel dry and tight), so this is one of the few shaving creams I've found that actually feels nice and works for a close, protected shave. Aside from the Skintimate "Moisturizing Cream Shave", this is one of the few products I like. I like it even more than Skintimate, which surprised me. I actually had nearly given up finding the right shaving cream, to the point that I only shaved with a double-blade razor and water in order to minimize razor burn and sensitivity, but this product is simply wonderful.It contains:
Water (Eau), Mineral Oil (Huile Minerale), Glycerin, Stearic Acid, Glycol Stearate, Gluconolactone, Triethanolamine, Cetyl Alcohol, Petrolatum, Sodium Benzoate, Dimethicone, Glycol Stearate, Titanium Dioxide (CI77891), Magnesium Aluminum Silicate, Carbomer, Disodium EDTA, Butyrospermum Parkii (Shea Butter), Avena Sativa (Oat) Kernel Extract, Aloe Barbadensis Leaf Extract, Ascorbyl Palmitate, Tocopheryl Acetate, Propylene Glycol, Alpha-isomethyl Ionone, Benzyl Salicaylate, Butylephenyl, Methylpropional, Geraniol, Hydroxycitronellai, Hydroxyisohexyl 3-cyclohexene carbocaldehyde, Limonene, Linalool, Violet 2 (CI60725), Red 40 (CI16035).
If you have skin allergies to any of those ingredients, avoid this product. It looks like a lot of chemicals, but it's 97% natural, so the actual amounts of all those chemicals are minimal. I don't pretend to be a chemist or a dermatologist, so I can't tell you anything specific about these chemicals, but nothing bothered my sensitive skin. If you have excema, rosacea, or other skin conditions (or even just sensitive skin, because those of us with sensitive skin know that it comes in many shades and degrees), you may want to choose a small area of the shin or thigh (rather than the bikini area or underarm) to spot-test it.
Texture / Consistency / Thickness / Viscosity
This shaving cream has a pump top, which I like a lot more than most shaving cream canisters which are aerosol (other than the Skintimate Moisturizing Shave Cream). It's thick, creamy, and extremely viscous. It doesn't drip or run (unless water is actively running on it), and it feels a little bit between your average moisturizer and a body butter in terms of thickness, creaminess, and absorption. It's not oily or greasy, and it absorbs nicely into skin. If someone were to touch my skin after shaving, they would think, "Oh, your skin is so soft!" rather than "Oh, what moisturizer do you use?". I love when a product delivers results without making it obvious that you used the product. That's my philosophy when it comes to choosing and using makeup and all things bodycare, so I was very satisfied with this shaving cream.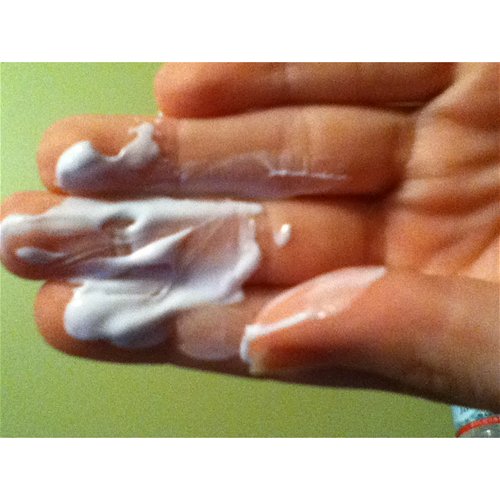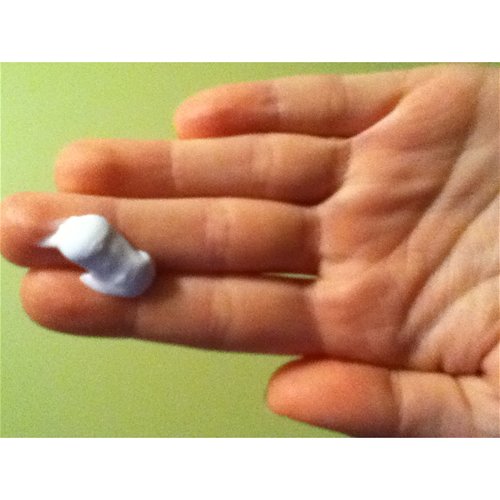 Taste / Aroma
I absolutely love the scent of this product! I have it in "Lavender Jasmine", but I feel it would be more aptly named "Jasmine Lavender". I am usually overwhelmed by lavender-scented products, and so many lavender products smell "fake" to me, but this was absolutely lovely. Jasmine is one of my favorite floral scents, and while you can still smell the lavender, I felt that the jasmine scent was a bit stronger.The overall scent isn't overwhelming. It has a light scent, and it's sweet, floral, barely-there, and pleasant. If you were to shave soon before getting intimate, it wouldn't be overwhelming; and if your partner were to kiss or taste your oh-so-smooth, tempting skin, there would be a slight taste (though not of anything in particular). But the taste is not aversive and doesn't have much of an aftertaste.
Performance
This product absorbs nicely into skin, though if you're dry-shaving, you'll want to apply it in small patches so you can shave before it absorbs into the skin and becomes too dry to shave comfortably. Doing this will protect your skin more. If you're wet shaving, especially in the shower, it will rinse off under running water, so be careful not to waste your wonderful product. After use, it doesn't need to be rinsed off, just rubbed in, which is convenient. And it works like a moisturizer, so it's like a shaving cream and soothing after-shave moisturizer all in one!
Packaging
I actually didn't order this product from Eden, but bought it at a bargain price at a local commercial drugstore. I bought mine for 10% off of $3.99, so I opted to buy it as I walked through the aisles rather than order it from Eden and pay shipping, as well as the higher price. If I had points to use, and had a larger order that would end up with free shipping, I absolutely would have tacked this on top, as it would have been quick, easy, and cheap. No matter where you buy it, this is a great product, though the price online is a bit high.I would imagine that it's packaged the same way; just the product. The product information and directions are printed directly on the bottle, and its use is pretty straightforward (no rinsing required, either), so it's definitely adequate.As far as the design of the product goes, it isn't overly "sexy". Again, I bought it in the drugstore aisle, and I wouldn't even have batted an eye had I not already seen it on Eden. I'm a huge fan of all things purple (hence my purple razors, purple body wash, purple lotion, purple hair products… it's a bit of an obsession, really), and this looked lovely next to all my other purple products in the shower. I like the packaging even more than my Summer's Eve ladybits wash, which basically screams, "She puts me on her vagina, everyone!! Look!!". I also love that it's a pump dispenser rather than aerosol, which is a lot cleaner and easier for me to use in the shower.
Special Features
**This product claims to be of use as a wet or dry shave, so I did a little experiment of my own.First, I went three days without shaving anything, then I used my Bic Soleil razor (a two-blade, disposable razor without moisturizing strips) and the EOS Ultra Moisturizing Shave Cream. I shaved my right shin and knee with dry skin and a dry razor, with only the shaving cream as protection, and I shaved my left leg with wet skin and a wet razor, with the EOS shaving cream as well. I did the same thing with my underarms (but I accidentally switched right and left, so the left pit was dry and the right pit was wet). Three days after that, I did the exact same thing with my 3-blade Gillette Venus razor with aloe strips.I found that while it can indeed be used as a dry shave cream without razor burn, the shave I got wasn't as close with either razor. Dry shaving irritated my underarms more than my legs, but I was able to comfortably shave with and against the growth of my hair with the razor. I reapplied the shave cream after my dry shave, and it stung for about five minutes, then actually soothed my skin. My skin was extremely soft and smooth, and lightly (and pleasantly) scented.
That said, it is still far superior as a wet shave. I got a closer shave, and even after getting goosebumps (the dreaded shave-ruiner), my skin was still soft and smooth. I had no irritation or burning whatsoever, and I didn't have to reapply after shaving. All I did was dab the excess moisture with a hand towel, and I was good to go. This held true for both my underarm and my leg. This was the closest, smoothest, most comfortable underarm shave I've ever had.
I actually prefer to use this product with the two-blade disposable razor, because it's so thick that it's a little hard to rinse out and clean your razor afterward. It gets clogged between blades, and to remove it, you need really hot water with a bit of pressure (or you need to submerge it and swish). The shave I got was just as close as when I shaved with the Venus razor.

The EOS shave cream and my two razors (for a size comparison).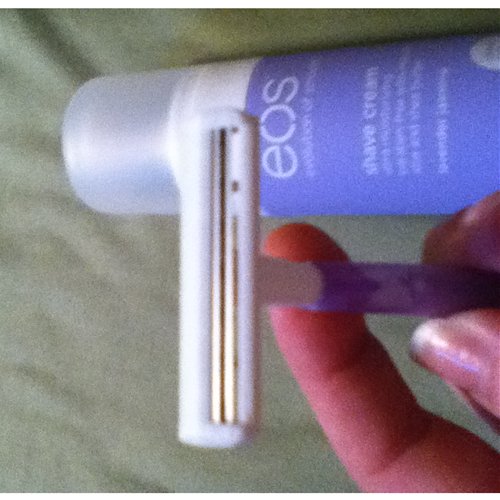 My Bic Soleil razor, with two blades and no aloe strips.


My Gillette Venus razor, with three blades and aloe strips.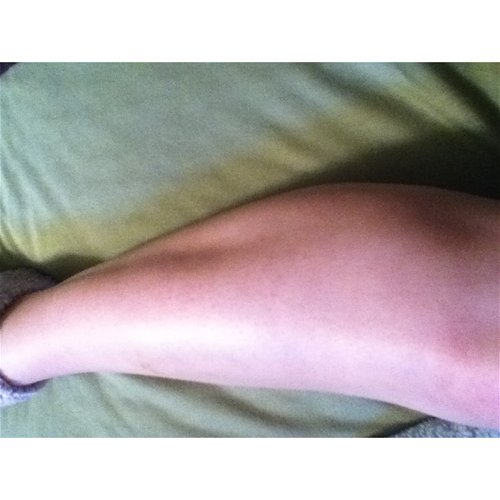 My right leg. This was the leg I shaved dry, and there are small red bumps.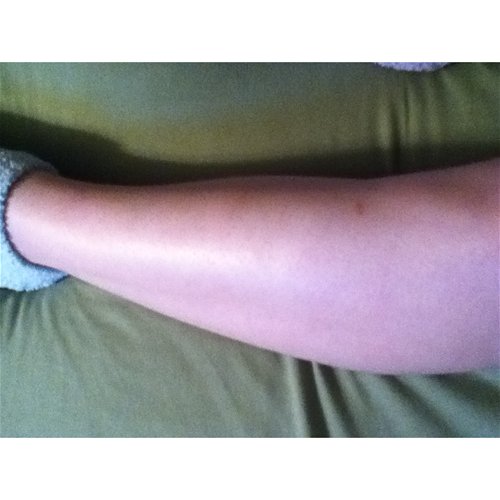 My left leg. I shaved this leg with water and the EOS cream, and there are no bumps or red spots at all.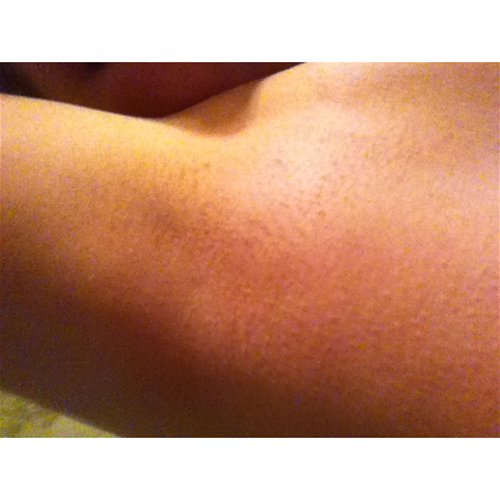 My right underarm. I shaved this underarm with water and the cream, and again, no bumps or red spots.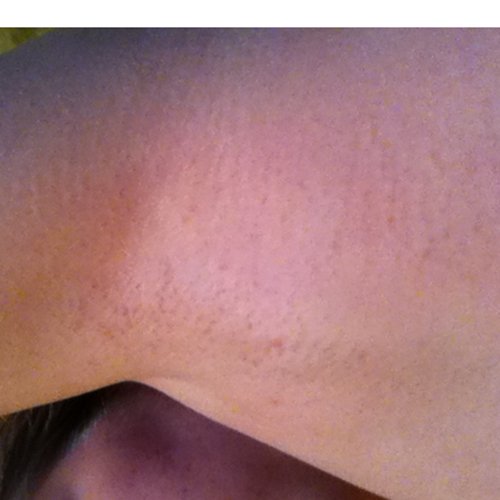 My left underarm. I shaved this underarm dry, with just the cream, and was irritated and red afterward.
Follow-up commentary
I still like it 2 months after original review
I do still like it, but I don't use it as much. The scent is lovely and it's very effective, but I've been saving it for special occasions due to its higher price. I also found that if I consistently used it time after time, my shave was less and less close. I have no idea why, but there you go. I went back to my Skintimate Moisturizing Shave Cream and have been very happy with that. But for a special night, or a friend's wedding, or a date… This is still my favorite!